How do we want to live in future?
What types of housing featuring which technologies and digital services do your customers prefer?
Are you obliged to develop affordable, livable housing that is future-proof?
Are your customers increasingly demanding new digital services – or even simply expecting to have them?
Do you have to respond rapidly to future owners' changing customization requests?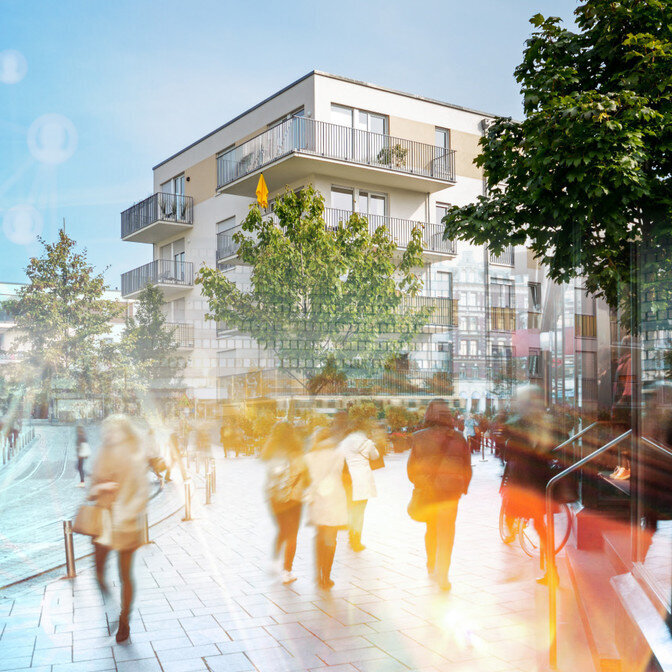 Product design includes:
Site and market analysis
Research and presentation of successful projects and innovations/trends (global and local)
User group analysis
Development of recommended requirements for user and building/urban district modules
Combination into an overall concept (product design)
Product development including:
Competition management
Project strategy
Project management and control
Integrated consulting on construction and planning processes, customer service, and marketing
Validation and management of quality levels in all project areas, from construction aspects to customer care
Innovative digital platform solution for central recording of all project participants and their tasks
Digital customer cockpit for the entire sales process – from initial interest and customization to digital signature on the acceptance report
3D digital option selection configurator
Project cockpit for principals with instant overview of project status
Cost and schedule certainty through optimization and rationalization of extensive and complex project processes
MORE SOLUTIONS FOR THE RESIDENTIAL PROPERTIES SECTOR
We support you in your challenges in the area of housing construction. With our expertise we help you with small problems as well as with your big projects, regardless of the type of project and the task. We develop our full potential when we provide holistic solutions. In this way, we create livable cities and urban districts that will remain competitive far into the future. In doing so, we look at your projects as if they were our own and thus create added value for you!
Would you like to know more about digital buyer management in housing construction?