Lean and agile with Lean Construction
No More Chaos – The Future Belongs to the Lean Construction Site
Objects are left lying around; trade contractors get in each other's way; in some rooms no progress is made for weeks. With construction projects, waste of materials, time, and labor is a big issue. Rework delays construction progress and pushes up costs. Often the planned completion deadline can only be met at a high monetary cost by implementing 'firefighting' measures or by cutting down on quality.
But no company can afford, or is willing to tolerate, chaotic construction processes any more. Faster, better, more efficient: companies are increasingly applying the rules of their core business as a principle for their construction and real estate projects. Construction departments in industrial manufacturing companies are among those discovering agile and lean methods for planning and implementing their construction projects.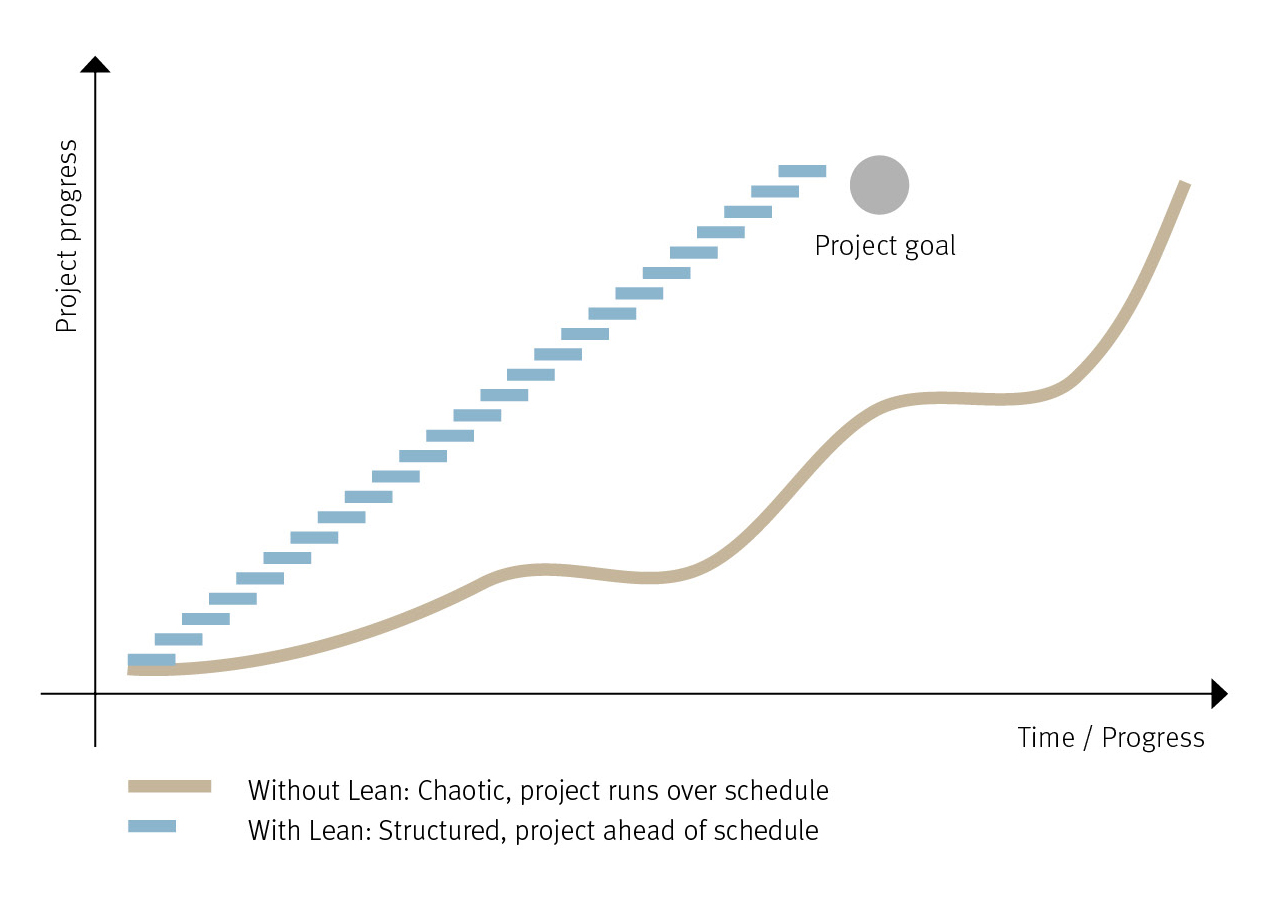 The lean method lends itself particularly well to large, challenging projects involving several participants. Instead of setting out an overall schedule based on experience, Lean focuses on the process as a whole. This is developed by all the participants together. They concentrate on sequences, dependencies, and preliminary work (input). This creates mutual understanding and enables potential risks to be identified considerably more quickly.
Lean – Well Established in the Manufacturing Sector, But Just Emerging in the Construction Sector
The lean thinking of today originates from the Toyota Production System developed by Taiichi Ohno. The main principles of the lean approach are:
Focusing on the client and the value-added process
Eliminating waste
Increasing efficiency
Setting standards
Reducing costs
Establishing a continual improvement process
This gives rise to principles for the manufacturing process: continuous flow manufacturing, a 'pull' system, production leveling, takt-time planning and the zero defects principle. These can be adapted so that construction projects can also benefit from lean thinking.

Instead of a conveyor belt, as is typically used in industrial manufacturing, in construction projects there is the 'trades train'. Lean experts divide a building into areas requiring equal amounts of work. Lined up one after the other in the right order, the individual 'trains', representing the individual trades, go through the building in takt time until it is completed. There are no idle times or delays. The result is a smoother, more consistent and swift construction process without any bottlenecks.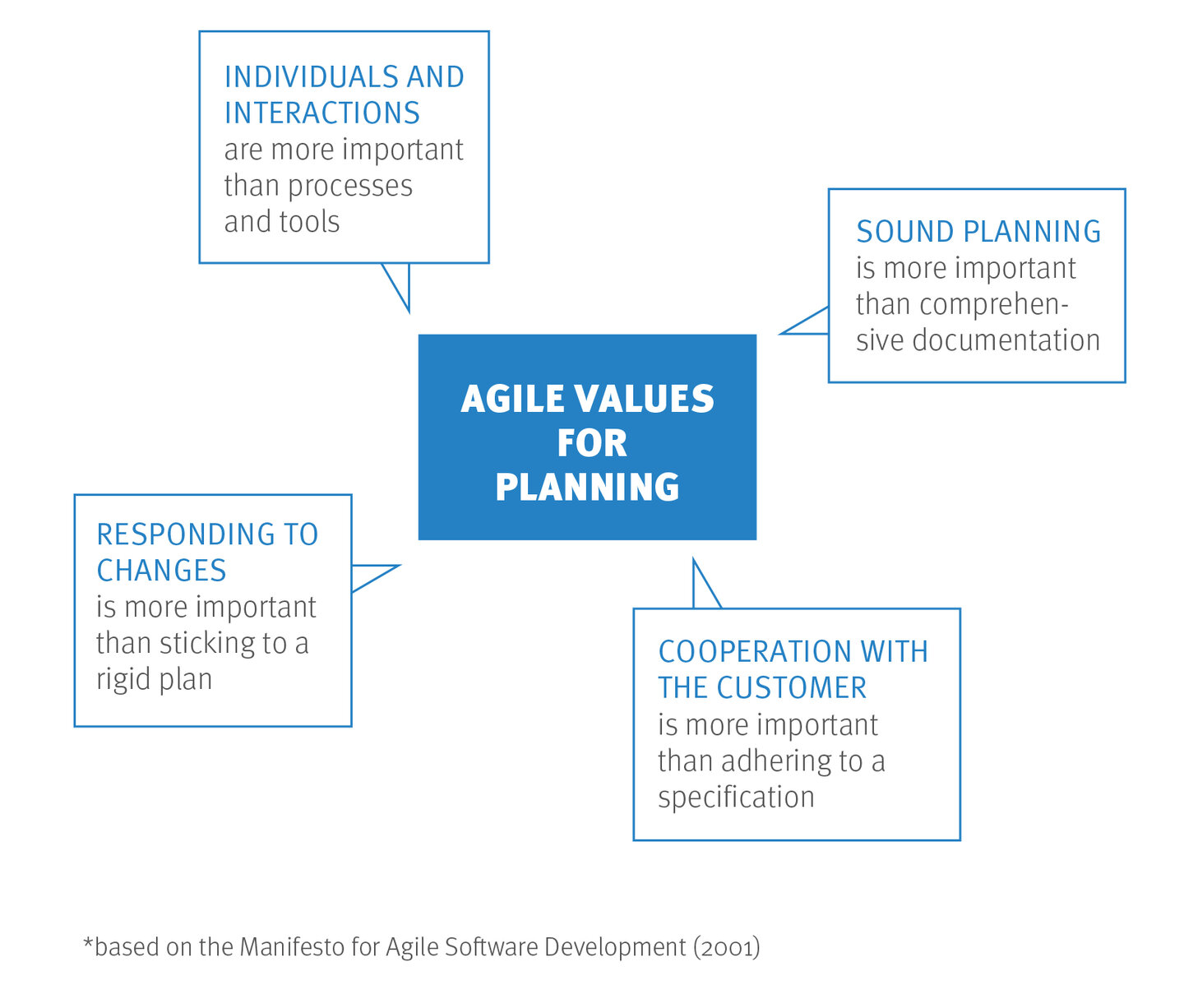 For works to proceed smoothly and steadily, meticulous planning is needed. This can be creative and flexible, especially at the start. Agile design management can be used to overcome a multitude of obstacles to the working and project routine. The agile planning method was first used in software development. At the forefront of the method are the people, and their close collaboration in cross-functional teams with few rules.
The following are some of the problems resolved by agile design management:
Unclear schedules
No understanding of the tasks done by others
Tasks or problems lost in emails
Unclear and uncoordinated interfaces
Wrong assumptions, bad planning
Continuous changes
There is an overall process analysis, process planning, and task management (Scrum). The Scrum Board acts as a visual task control tool. Aids such as sticky notes make progress and current tasks directly visible to all participants.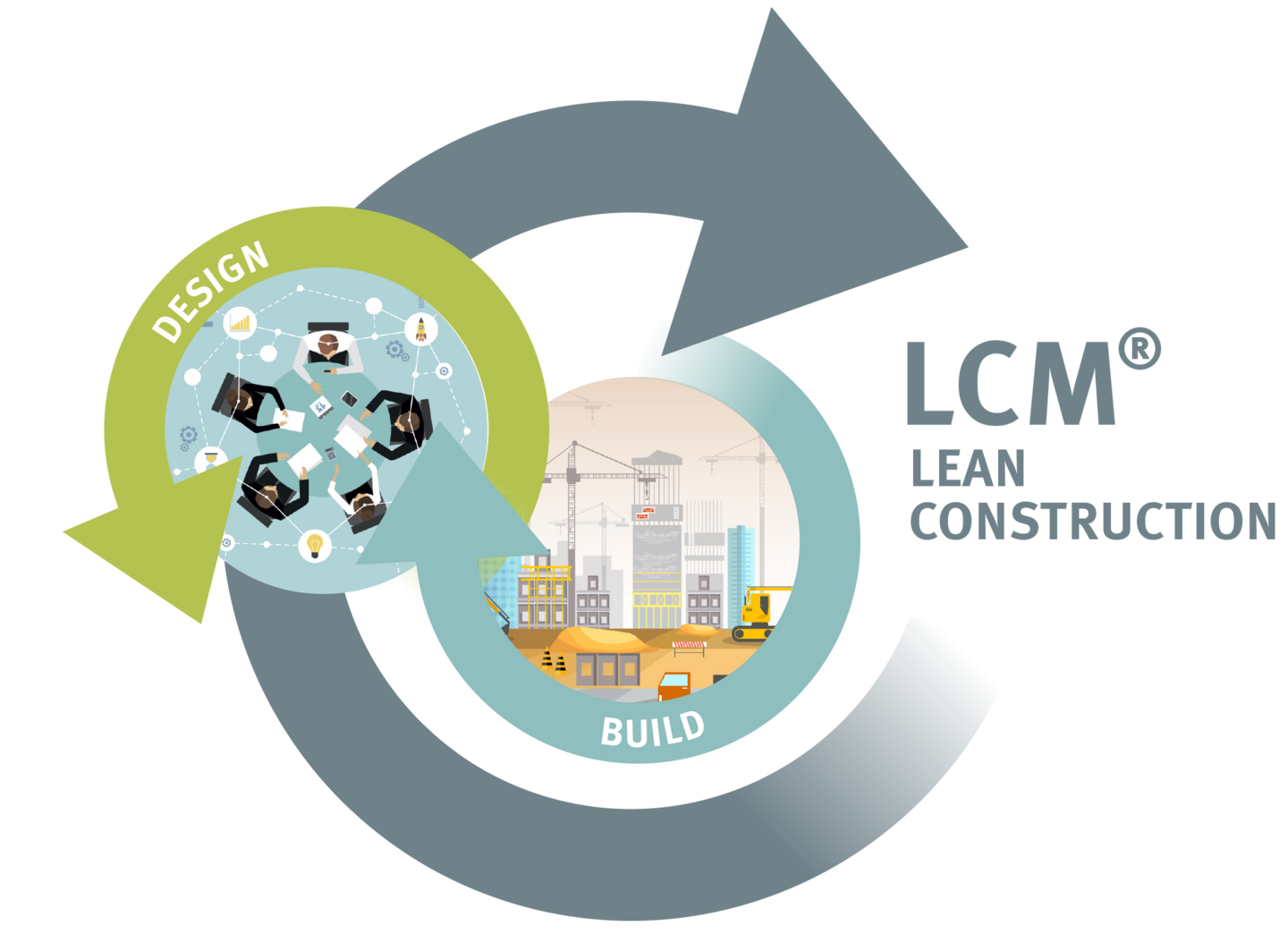 With LCM®, Drees & Sommer transfers the lean principles from the manufacturing industry and the agile methods from software development to construction processes and projects. The greatest impact of LCM becomes apparent when it is used consistently in all phases of a construction project. Lean design management and target value design in the planning process, lean site management on the construction site, a lean supply chain and construction logistics, process optimization in the workplace, and training of staff – all this is part of Lean Construction.
The results are impressive:
Significant increase in project efficiency
Achievement of schedule, cost and quality goals
Increased efficiency across the entire value chain - with improved Quality
Improvement in communication and processes
Time savings of up to 30%
Greater stability ('Everything goes according to plan')
Avoidance of obstacles and disruptions
Early identification and avoidance of risks
In early stages, the project managers define the buildings and the associated value for the principal using Target Value Design. A modular planning approach and Agile Design Management are used in the planning phases of the project. Gradually, a detailed construction project emerges that conforms to the principal's wishes and goals. Lean Site Management is used during the construction phase, increasing effectiveness and efficiency on the construction site. During commissioning, standardized processes and close coordination with the construction site ensure perfect on-schedule handover.
500 successfully implemented projects
Drees & Sommer has been using Lean Construction for over ten years and has successfully completed more than 500 projects. In addition to principals, the company advises construction companies, planning offices and suppliers on how to make project execution leaner.
As a pioneer in Lean Construction, Drees & Sommer is involved in various non-profit institutions for the promotion and further development of lean methodology in the construction industry. Drees & Sommer is a member of the German Lean Construction Institute (GLCI), and participates in various working groups in the Association of German Engineers (VDI).
Around 500 successfully completed projects
Drees & Sommer has been working with Lean Construction for over ten years and has already successfully implemented more than 300 projects. In addition to clients, the company also advises construction companies, planning offices, and construction suppliers - with the aim of streamlining project execution.

As a pioneer in lean construction, Drees & Sommer participates in various non-profit institutions for the dissemination and further development of lean methodology in the construction industry. Drees & Sommer is a member of the German Lean Construction Institute (GLCI) and various working groups within the Association of German Engineers (VDI).