Using agile planning processes, we also manage the planning phase, keeping a constant eye on the relationship between costs, time schedules and deadlines, and quality levels. We are responsible for the interaction between the procurement team, the designers and the contractors, as well as all relevant third parties, on behalf of the project lead through all the phases of the project.
To What Extent Does Engaging the Services of a PMO Make Sense for You?
Do you have to set up or implement a robust project organization?
Do you have to ensure the handling of a project with guaranteed costs?
Do you depend on reliable time schedule and deadline steering?
Are you looking for effective risk management for your project?
Do you want to manage you communication in a well-equipped project room?
Do you have the necessary skilled specialists on board at the client/developer?
Do you need reliable contractor and contract management for all project partners?
Do you have a large number of project participants, meaning a lot of interfaces to be managed?
You Have to Address the Following Points
Selection of the industry-specific and plant-specific PMO partner
Integration at an early project phase to set up the project organization
Definition of the role, and establishment of clear responsibilities and representation rights
Active involvement of the PMO partner in the relevant internal network
Definition of the appropriate type of handling for your project
Evaluation of possible contract partners with regard to technical suitability, capacity, region, economic efficiency, quality etc.
Resource planning and conducting of negotiations, onboarding and efficiency monitoring
Setting up the project schedule as a control instrument
Continuous interface management with clear communication and document management
How We Approach Project Management
The main priority is to provide targeted, active project support. First and foremost, this includes leading the project team effectively on the basis of project structures and a project organization approved in advance. The client is saved a considerable amount of time and effort, has reliable, transparent information on performance levels at all times and receives expert advice on all aspects of the project. In this way, Drees & Sommer ensures that the client's objectives are met and keeps the project transparent and controllable.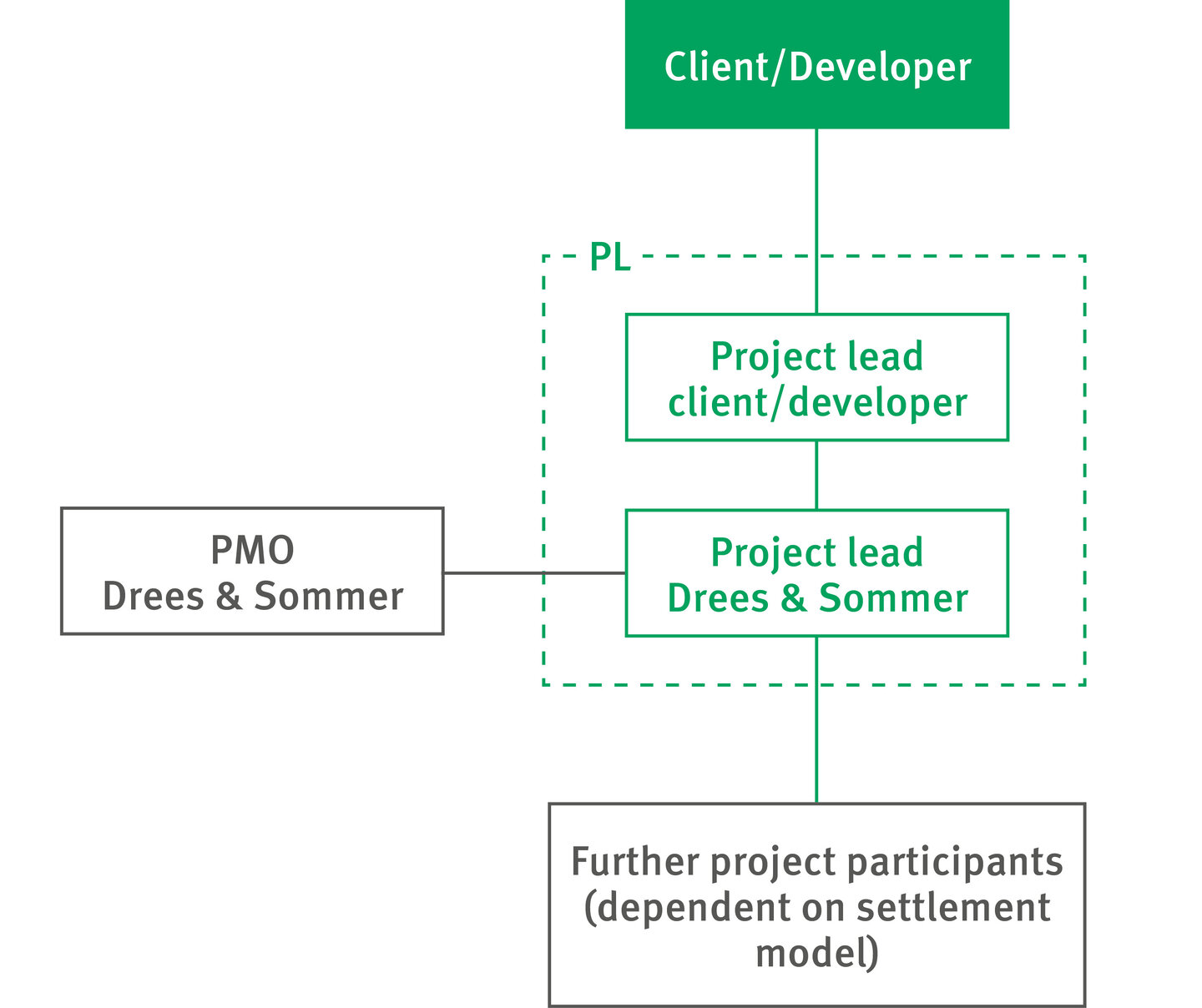 Key Tasks
Project lead client/developer:
Stakeholder and Management (User, Purchasing, Quality management, Authorities)

Project lead Drees & Sommer:
Project structure, Reporting support, Costs, Deadlines, Contractor management, Documentation and communication, Planning reviews and monitoring, Construction and site management, Commissioning management
Fast and targeted support for project management and handling
Possibility of modular expansion according to the project phases and challenges arising in the course of the project
Flexibility with regard to human resources and technical expertise
Full, ongoing transparency based on reporting on costs, progress and quality levels in a standardized format
Close interaction and interface management for linear project progress
Early identification of challenges with immediate introduction of mitigation measures
Secure and early transfer of execution expertise into planning allows accelerated scheduling
Innovative contract structures for strong collaboration between project participants
MORE SOLUTIONS FOR THE ENTERPRISES OF THE CHEMICAL INDUSTRY
Fine and special chemicals, construction chemicals, paints, adhesives, fertilizers, plant protection, detergents, care products, industrial gases and the mineral oil industry – each of these sectors contains a variety of sub-sectors, and they all come under the term Chemicals. With our products and solutions we help enterprises in this segment to achieve secure and successful projects. Whatever special details apply to the processes and results in each of the different areas, all of our products are secure, economically viable, digital, sustainable and innovative.