© Siemens
Quarters & Developments
Siemensstadt2, Berlin
Services
Sustainability planning
Blue City Development district certification
Additional value
Experience in certification enabled rapid adaptation of the LEED for Cities and Communities system
Comprehensive know-how for sustainability planning
Client
Siemens Real Estate, Munich
Project duration
August 2019 – ca. 2030
Architect
Robertneun Architekten, Berlin
Building area
430,000 m², of which heritage-protected: 230,000 m²
Construction cost
€600 million gross
Siemensstadt2 is taking shape on a historic industrial site in Berlin. Drees & Sommer is acting as consultant and supporting the certification of the flagship district by two different sustainability systems.
At the end of 2020, Siemensstadt2 achieved Platinum status in the new LEED for Cities and Communities rating system with what may be a record-breaking score of 93 out of 110. The result of the DGNB Quartiere (Quarters) 2020 assessment had arrived a few weeks earlier, awarding Platinum with an equally excellent score of 84.1 percent. This first-ever double award marked the end of a very successful year for the Berlin district project.
Drees & Sommer has been supporting the project since 2019. So far, the urban district and sustainability experts have advised the principal on all questions of sustainability, codeveloped the main sustainability guidelines and KPIs for the overall project with the client, and subsequently provided qualified certification consulting and organized the subsequent DGNB and LEED precertification. The team is now all set to arrange certification of individual buildings in the first construction stage.
With a total area of more than 70 hectares, of which around 45 hectares are to be redeveloped, Siemensstadt2 is one of the major urban development projects in Berlin's northwest. The development is being undertaken in stages, and Siemens is taking an international approach to finding future partners.
To review planning and raise the project to the next level of quality, it was decided early on not to rely solely on the German DGNB rating system, but to also certify the district using the LEED for Cities and Communities rating system, which has been in place since 2018.
The principal's basic idea is to transform the company's historic industrial site into a carbon-neutral smart urban district. Features will include over 2,500 new apartments, thousands of workplaces, and around one million square meters of gross floor area. The revitalized Siemens rail line and low-traffic internal infrastructure will form the backbone of the district's sustainable mobility strategy.
The district is also designed for energy efficiency, with solar panels on roofs and facades, a low-ex grid fed by geothermal energy and, of course, the coupling of elements such as mobility, energy generation, and buildings. The master plan also aims to achieve zero stormwater discharge for the district to further enhance climate resilience. Roofs and facades will be planted, and exterior surfaces upgraded to minimize the heat island effect. And of course, as one of Berlin's 'districts of the future', Siemensstadt2 will be smart, with Siemens IoT, various Digital Twin solutions for use in planning and operation, and many other innovations.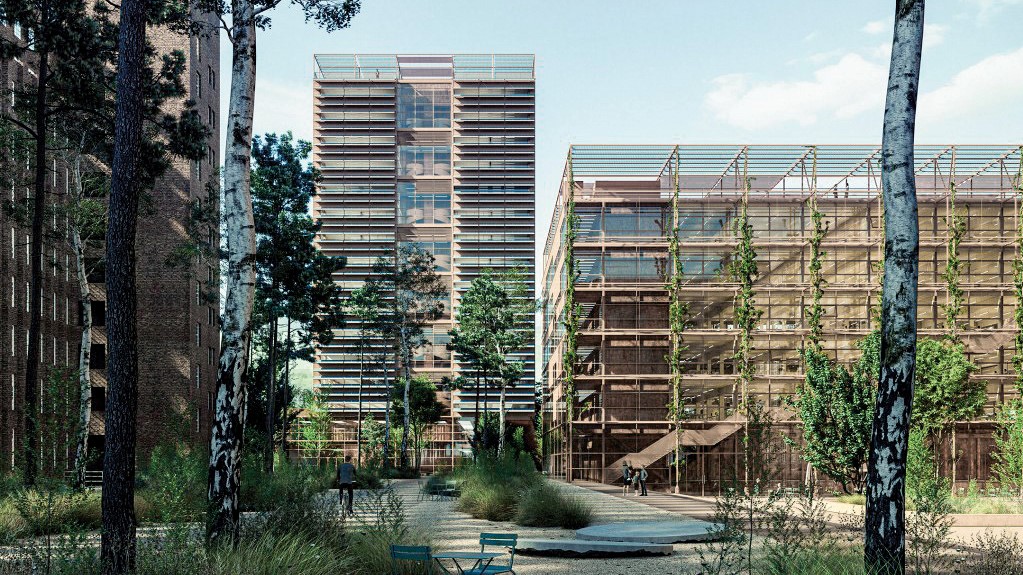 © Siemens
© Siemens
© Siemens
© Siemens