Our management of the installation sequence and installation of major plant and equipment is goal-oriented, whilst ensuring tidiness of the cleanliness of the construction site throughout the project in compliance with the highest safety requirements. From support for engineering to retention of suppliers – we bring everything together.
TO WHAT EXTENT IS INTEGRATED CONSTRUCTION MANAGEMENT RELEVANT TO YOU?
Zero Incidents are your top priority?
Are you looking for a single source for reliable site supervision covering all cost groups?
Are systematic organization, consistent processes and clearly defined communication at interfaces important to you?
Do you want to reduce your coordination effort?
Are quality assurance and risk minimization important to you?
Do you need maximum cost certainty and transparency?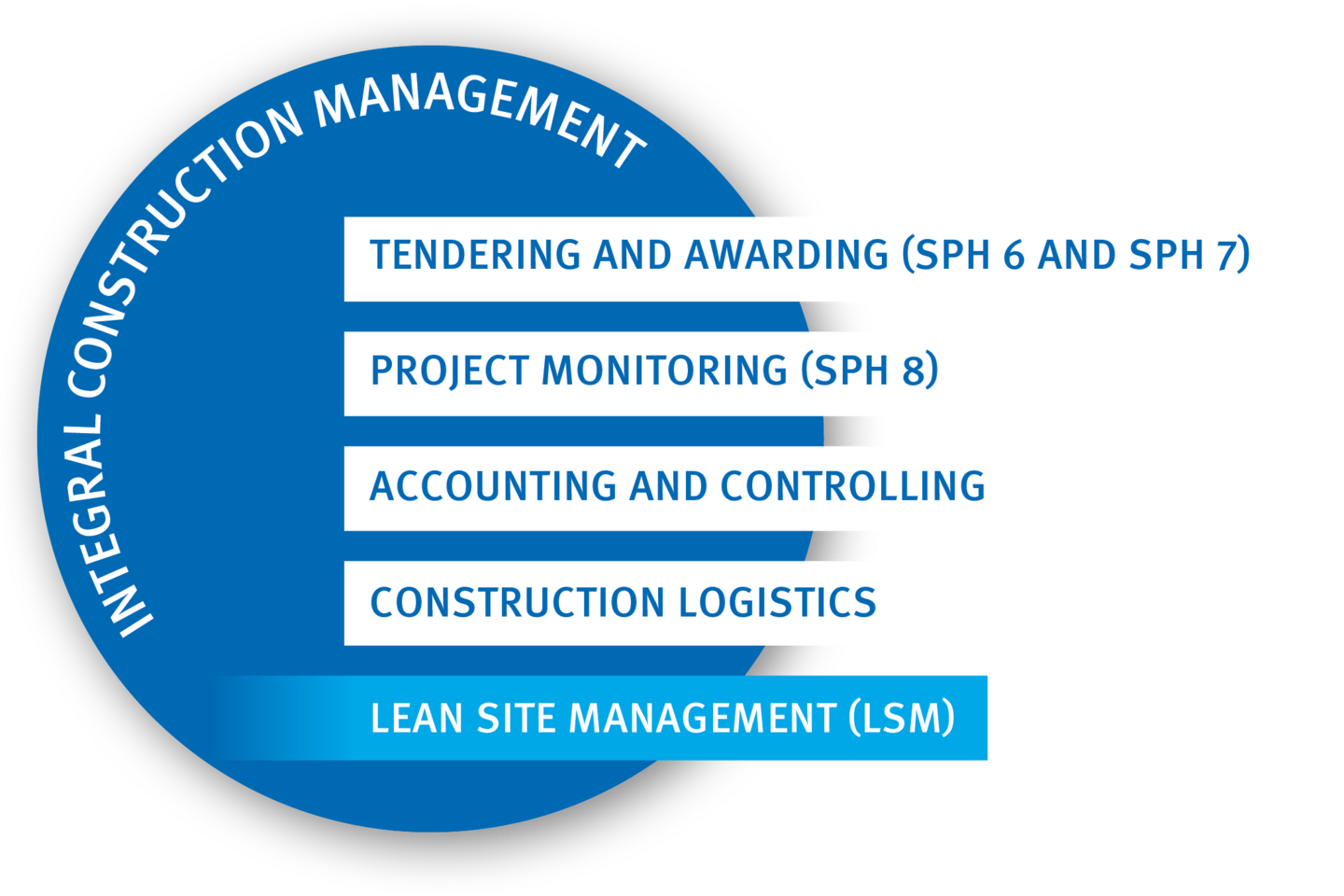 Integrated Construction Management uses Lean methodology to pool all construction management services throughout the entire construction phase. We cover the full range of services: From invitation to tender through to completion of construction and approval by the licensing authority.
We supplement EPCM – that is the planning, consulting and management services – through systematic organization, consistent processes and clearly defined communication at interfaces.
We implement the principal's requirements professionally and cost-efficiently, while at the same time ensuring high-quality realization of the architect's esthetic design. We bring our knowledge to bear in the planning phase and take over the project in service phase 6 with the tendering of the cost groups (KG) 300 Building envelope, KG 500 External works, and KG 600 Process and systems technology.Our specialists also prepare and participate in the contract award process. We review the specification of services for cost category 400 Building Services Equipment and supervise the contract award process, thus ensuring that service phase 8 (site supervision) leads to successful conclusion of the project.
We represent the principal before, during and after construction execution and recognize what needs to be done at early stage in all service phases. We take quick solution-oriented action that is digital and transparent at all times.
Construction logistics – for a smooth construction site process
Construction logistics makes an important contribution to the smooth running of construction sites with a diverse range of demands on the infrastructure.
We can also implement and operationally support construction logistics concepts in projects that are already underway. Our team of experts can create a concept carefully tailored to your needs.
REQUIREMENTS ANALYSIS AND PRELIMINARY ASSESSMENT
CONCEPT AND DOCUMENTATION
Our experience and expertise in the Chemicals sectors
Quality thanks to teamwork, collaboration across all disciplines, and common goals
Organized projext kick-off thanks to a standardized mobilization process immediately after commissioning
Schedule stability thanks to Lean Site Management, seamless interfaces and systematic management of documentation during construction
Transparency of cost tracking thanks to a rigorous cost system
Communication and clear rules to ensure a smooth process
Risk minimization thanks to a single source for site and process supervision
More solutions for the enterprises of the chemicals sector
Fine and special chemicals, construction chemicals, paints, adhesives, fertilizers, plant protection, detergents, care products, industrial gases and the mineral oil industry – each of these sectors contains a variety of sub-sectors, and they all come under the term Chemicals. With our products and solutions we help enterprises in this segment to achieve secure and successful projects. Whatever special details apply to the processes and results in each of the different areas, all of our products are secure, economically viable, digital, sustainable and innovative.