Circular economy and urban mining in established buildings
The owners of real estate portfolios face the important task of modernizing their building stock. The good news is that the buildings of tomorrow have already been built – and sustainable refurbishment can be achieved if the right approach is adopted.  
In addition to regular renovations, there are two key reasons to make established buildings fit for the future: ESG goals – especially climate protection – and social trends. The German federal government plans to introduce a digital Building Circularity Passport. This will allow portfolio holders to prove what building materials and components their properties contain – and what can be reused.
In the case of the Huthmacher-Haus project, Bayerische Hausbau is taking an exemplary approach to sustainable refurbishment: A comprehensive inventory provides transparency regarding the materials used. This is recommended as the first step in all renovation project, as it provides the basis for all subsequent decisions: Which materials are recyclable, that is, can be dismantled, separated and reused as raw materials for renovation? And which, on the other hand, are contaminated and have to be disposed of. 
"We see the recyclability of buildings as a huge opportunity. That's why we want to analyze our existing properties – to know what raw materials the buildings contains. We see Huthmacher-Haus as a pilot project."


Hannes Giese
BIKINI Berlin Project Management – Huthmacher-Haus, Bayerische Hausbau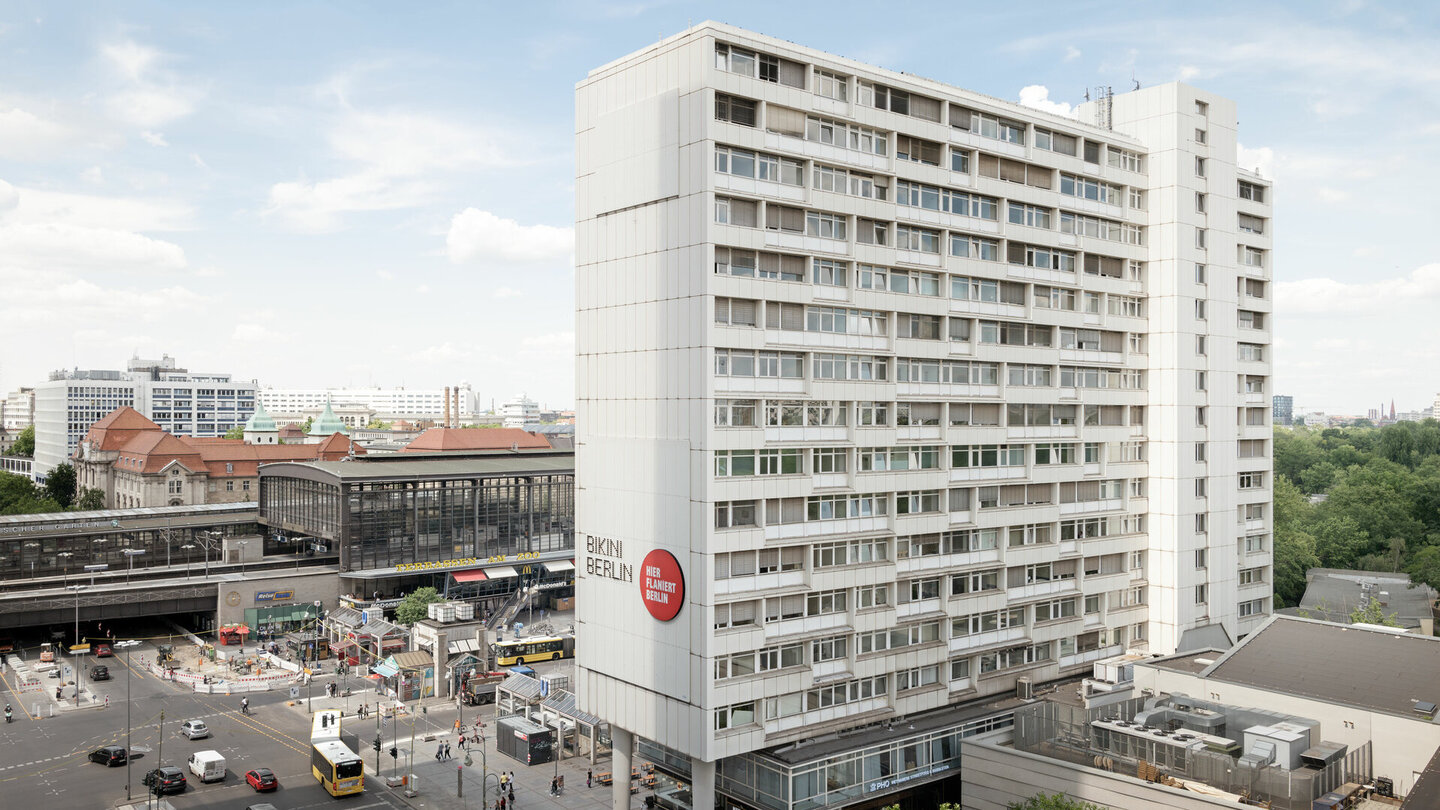 Built in 1957 to plans by architects Paul Schwebes and Hans Schoszberger. 
Modernistic post-war architecture, most recently refurbished in mid-1980s.
The name 'Huthmacher' stems from a former café and dance hall that was located in the ground floor for many years.
Recovering secondary raw materials from existing buildings and reusing them in the next step makes sense, and not only for ecological reasons. The scarcity and rising cost of raw materials, increasing disposal costs and dependence on third countries make the use of secondary raw materials essential.
Thanks to urban mining:
Negative impacts resulting from raw material extraction, such as water stress and biodiversity loss, can be avoided.
Established buildings become valuable raw material repositories and part of valuable material cycles — if the building's ingredients and their quality are known.
How did Huthmacher-Haus become a raw material repository? EPEA – Part of Drees & Sommer – 
Evaluated relevant urban mining potential and the planned modernization measures 
Carried out potential analysis with a focus on the potential their reusability of components and building materials
Prepared a detailed inventory of the materials present on site
Analyzed historical detail drawings to gain important insights into component layers, connecting elements and fasteners.
PASSPORT PLEASE! – THE BUILDING CIRCULARITY PASSPORT FOR BUILDINGS
NOT ONLY ON PAPER – DIGITAL CAPTURE IN MADASTER